WRITING WORKSHOPS
Since August 2013 I've presented 20 Life Story Writing Workshops with a total of just over 200 participants.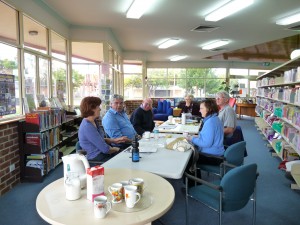 This workshop is suitable for almost any theme – including growing up or living in a local area, local history, relationship with the land, travel and experiences of other cultures. The workshop supports writing memoir, a travel diary, articles for a newspaper or magazine, poetry or essay.
The approach I take is that people don't just learn from me, but from and with each other.
Hugely enjoyable and quite inspiring, it's a pleasure to spend a few hours with people interested in practical ways to improve their writing. It's also fun to hear later what people are getting up to, particularly when people have decided to continue meeting as a self-supporting group.
Most of these workshops have been hosted by public libraries, some by local or regional art boards or associations.
I have a couple of south coast workshops coming up and then a number in western NSW. I will also be offering a couple of other workshops:
Show, don't (just) tell
This is presenting an image and inviting a reader to feel the story, rather than (just) presenting the facts telling the reader what to think. This uses descriptive and specific detail, sensory language and dialogue.
Writing in scenes
Facts and details resonate stronger with a reader when presented in scenes. These zoom-in on detail, relationships and significance. Context and background information, by contrast, is presented in wide-angle, as summary.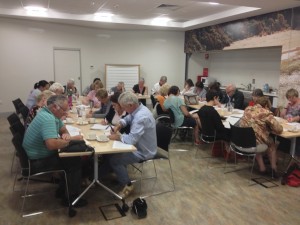 WORKSHOP TESTIMONIALS
The workshop Graeme ran was a great success with all those who attended. Everyone in our group was there because he or she wanted to write – that much we all had in common – but how and what we wanted to write was tremendously diversified. What struck us all was how much you were able to help us in ways that suited our individual needs. And in such a short space of time!
Cree Marshall, White Cliffs NSW
Graeme was a wonderful help. The push I needed to start writing. Encouraging and gracious.
Jane Petrie, Bourke NSW
I enjoyed your writing activities and your response to what we wrote was really honest. I was pleased how you told us basic hints at improving our writing techniques. The hook bit was good and the free writing exercises etc. All up, I was really pleased with the workshop and would highly recommend it to anyone. It has motivated me into getting going with my life story. Thanks for a good afternoon!
Lynda Williams, Coonamble NSW
The members of our writing group vary to every extent – education, life experience, age and writing ability.All members felt they had received help with their stories and were confident they could enhance and engage their future readers with amore professionally written piece of work after Graeme's workshop.
Bev Davidson, Librarian, Coonamble Shire Council NSW
I thoroughly enjoyed the Life Story Writing Workshop. I did not know what to expect and was delighted with the writing exercises and the chance to share. There was nothing intimidating or frightening. Graeme provided great information and a supportive environment.
Sandra Constantine, Ardrossan SA
Graeme put the 10 of us through our paces with three hours of exercises to get the pens flying. Group 'critique' was productive and there were plenty of laughs. As a result several of us have decided to hold a regular Writing Group, and I am excited about this. Graeme has agreed to be available via email and will give us some extra tips and info to help us on our way. Thanks Graeme!
Plaxy Folland, Ardrossan School Community Library, SA
Thank you, from all accounts everyone was very pleased with the workshop. All comments and scoring on the workshop were positive… A sample of comments …
 "Thank you. Just what I needed. A very inspiring man. The participant discussions were enlightening and inspiring."
"Presented a lot in the short time frame."
"I would have been happy to pay more to have less people in the class for more individual participation but a great afternoon. Thank you."
"Class involvement most valuable."
"Really interesting and fun. I learnt a lot in a short time, thank you."
"Hope to see Graeme at the Penola-Coonawarra Arts Festival someday soon!"
Kristi Leamey, Mount Gambier Library, SA
++++++++++
WORKSHOPS
Back in 2004 Meg and I trained in a Life Review program. This is based on guided autobiography which has its roots in narrative therapy. It combines individual and group experiences and involves group members writing and sharing brief autobiographical stories based on particular themes. Life Review is not intended as therapy, it does not seek to cure social problems or change people. But it can be therapeutic in the way that sharing experiences in a supportive setting can be therapeutic.
Having experienced the training in Life Review I can vouch for its therapeutic benefits. We've used this with public housing tenants in Nowra NSW but in a subtle way it's provided a lot more value, including themes and options for writing workshops.
The process has analogies with Anecdote Circles and other dialogic methods used in group facilitation. This is one of my interests, where story telling is becoming increasingly popular. For more information about Life Review.
In 2006 Meg and I worked on a collaborative project with the Council on the Ageing (NSW) collecting stories of older people's experiences of the environment as they grew up. We did this through a series of writing workshops, mostly held in public libraries and mostly in regional New South Wales. Around 140 people participated in 12 workshops with more than 70 stories being submitted. From these 24 were selected and published as Stories of Experience: Learning from the environmental experiences of older Australians.
After that project that we did a number of workshops in public libraries including Canterbury, Randwick and Marrickville. These focused on some aspect of a person's life story or a local history. These workshops are as much about personal enrichment and community development as they are about literary outcomes. Most of the participants don't think of themselves as writers but they are interested in sharing their stories, their experiences. It's quite common for people to continue writing after the workshop, particularly in memoir and local history, developing a determination to improve their writing.
This was highly enjoyable work. It brings together many of my skills in working with groups with my interest in writing. I intended to do more but then life got in the way. We built a house. I wrote a book. Now I'm starting again, with a number of workshops planned for different centres in north-west New South Wales in August-September 2013.
See updates on the Blog.