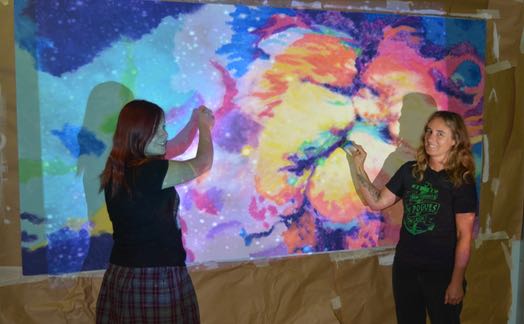 ---
Earlier this year I was invited to join a youth mentoring program about to commence in the area where I Iive – on the NSW south coast.* I was interested but unable to take on the role owing to travel plans over the following months. I thought though, I'd like to follow the program with a view to writing about it. The organisers agreed, with the acceptance of the young people and the mentors. So I went along and participated in the first meeting of mentors, before they and young people were matched. Following that I attended and observed several of the regular meeting between the young people and their mentors over a few months.
These started with negotiating ground rules and the development of realistic goals for a community project. This identified measureable steps to get there within an agreed timeframe. The projects included a sports fun day, fundraising for more youth activities, a mural, a video project and a survey of teenagers needs. I came to know all of the mentors and young people to some extent, some quite well.
At the outset I had imagined I'd be writing about the responses and experiences of the young people, and how they changed over the course of the program. The sort of things they had learned about themselves. But along the way a funny thing happened. With absolutely no disrespect to the young people, I became more interested in the impact of the program on the adult mentors themselves.
The change in my focus started at that first meeting. The group of mentors included a retired train driver and a couple of teachers, students, a handy-man, an artist and a small business owner. Ages ranged from mid 30s to 80something and this first meeting was an eye-opener. If I paraphrase a typical response, they wondered why they were being asked to identify their goals for the program. Weren't they here to help and guide the young people? Perhaps, some thought, even to tell them what to do. When teased out most noted a wish for greater confidence in being with young people.
Jennie Toms, a life coach among other things, devised and delivered that local program. She has a variation on the African proverb that "it takes a village to raise a child." This is an underlying belief that young people need at least eight significant adult influences from birth to age 24. "For the vast majority of the last 200,000 years, humans have lived in mulltigenerational, multifamily hunter-gatherer bands characterised by a rich and continuous relational milieu." This helped protect, nurture, educate and enrich the lives of developing children. Of course not every young person gets that. And not every significant adult influence is positive for young people.
The Australian Youth Mentoring Network says mentoring focuses on particular areas, such as: social and emotional wellbeing; individual talents and leadership; identity, culture and faith; youth justice and crime prevention; and education, training and employment. While there is often overlap between these areas this local program focused on individual talents and leadership. The young people were all, generally, doing OK with their lives, which isn't to say there weren't past and present issues affecting them, along with concerns over the future.
Ray, a retired train driver, had expected a fairly rigid approach, with more control but what he found was "a lot of conceptual stuff," less defined and far more flexible than expected. Vanessa, an artist, initially found the theory behind the program distracting when she wanted to get on with a mural project. But as the program went on, they, and other mentors better appreciated the holistic nature of the program, considering their needs as well. New concepts are often difficult to grasp. Following one of the early mentors meetings, someone mumbled something about "psycho-babble."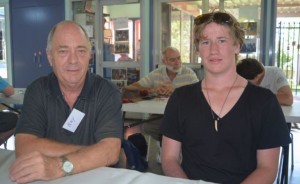 My travel plans took me to western NSW where I noticed promotion of the final presentation for a youth mentoring program. I went along and a local contact introduced me to mentors Danielle and Mark, who I later spent time talking to on their experience.
Mark runs a fast food franchise and employed numbers of young people who he felt he got on well with. He found the mentoring program provided a different perspective to the training and coaching models he had previous experience of. When asked to take a mentor's role he asked a couple of young people he knew had done the program previously, what they felt a mentor needed to offer. This was Mark wanting to know he could contribute, that he had something to offer. He did. Apart from the joy of working with a young person he says he "started to see one of his sons in the same way" he saw his young person. This was a positive. The mentoring program also helped him to break into networks in the town, where he was something of a newcomer.
Danielle too, is a relative newcomer who works in exercise and fitness programs. She also noted the contacts made had helped her work out how things get done in town. She delights in her young person moving from someone low in confidence, unable to identify any personal strengths to someone with measured self-esteem and a belief in themselves along with a greater interest in the world. Danielle, like many mentors, had started not knowing what to expect, but she had "grown as a person, personally and professionally." Asked what she had experienced, she offers: "humility, elation, progress, excitement, achievement, completion."
Having been something of an independent observer of my local program I was asked to speak at a showcase event on its completion. I made the point that the young people had noted they had gained in confidence through planning and delivering a project. They had a sense of giving to the community and enjoyment from doing something worthwhile.
And the mentors? They too noted greater confidence through being able to work with young people on their project. They found a sense of value in supporting something worthwhile and they found enjoyment. Strikingly similar to what the young people had taken from the program. And they would all do it again.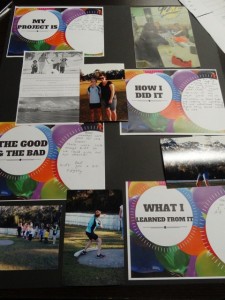 * There's a little more detail of the local youth mentoring program on page 20 in this link
---
---