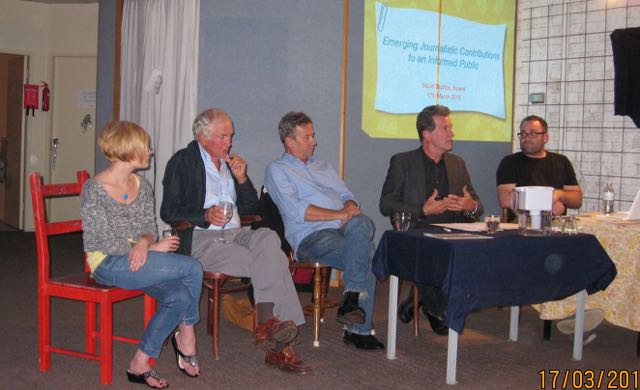 ---
"Participation in public life is a fundamentally good thing," said George Bernard Shaw – or at least it was something very similar to this.
It follows then, in my mind, that civil and informed participation is an even better "fundamentally good thing". And if that participation in public life is entertaining, convivial and provides opportunities for relationship building, it becomes an excellent "fundamentally good thing".
This was the approach taken to the Citizen Journalism Forum at Nowra's Squid Studio on March 17, 2015. With around 30 participants the forum provided opportunities to listen, share experiences and then ask questions of an interesting and knowledgeable panel of speakers with differing but not incompatible views on citizen journalism. Following are key comments from the panel, with links to relevant sites or information and some observations of mine.
With the forum moderated by Richard Morecroft, political scientist and historian Dr Robert Carr gave a keynote address, drawing on experience at the international level as well as his local experience as founding editor of Illawarra News.

He included criticisms and negative experiences, such as attempts at blocking access to news by a public organisation and a mainstream media organisation. He also included positive impacts such as providing an informed space for dialogue, critique of policy and the development of consensus.
In responding to the question of how mainstream and citizen journalism could or should co-exist, Dr Carr offered the proposition of mainstream media appointing a citizen journalism editor to oversee and nurture a citizen journalism unit hosted within the mainstream media outlet. Guardian Australia provide this with a daily news email including a section of public comment. A copy of Dr Carr's public lecture is available here.
Human rights activist and author Stuart Rees noted that citizen journalists' contribute to public awareness and understanding of issues which affect individuals' lives, community coherence and well being. Such journalists need courage, a sense of vision about social justice and skills in analysing events. He drew on examples of coverage of universal human rights and social justice from the online journal New Matilda.
Mr Rees also mentioned a pervading sense of powerlessness with many people feeling there is "little that can be done locally". However personal stands will always have political implications in the play of power relationships in any context: in the home, in schools, in work places, in local, State and Federal politics. "That is a very large arena in which we can all overcome the fatalism that little can be done," he said. "Instead, at different times on diverse issues, we might all become citizen journalists who will make a difference".
Anna Chaplin is a contributing blogger at Illawarra News, covering Arts & Culture. Ms Chaplin has also founded a local community support & awareness group, Endo NO!, dedicated to women with Endometriosis. Ms Chaplin spoke on the joys (and trials) of self-editing while writing about a passionate subject and the freedom she finds in writing.
John Hanscombe has been a journalist for 35 years and editor of the South Coast Register for the last 10. His view is that the Register is very much a community newspaper, the community sets the agenda and the paper is reliant on citizen journalists.
Mr Hanscombe also warned that citizen journalists need to be mindful of defamation laws, giving the example of Fairfax Media (publisher of the Register) currently being sued by Treasurer Joe Hockey. Mainstream media have access to legal back-up that may not be readily available to citizen journalists.
Some key discussion points and issues that came up in the question session (with a few relevant links):

Layers of oversight, such as sub-editors, are being lost in mainstream journalism, requiring the development of self-editing skills in journalists. This is impacting locally through cuts to Fairfax Media, announced in the South Coast Register May 15.
On the valid concern over quality it was noted that while some blogs and web sites masquerade as citizen journalism, others provide professional support and mentoring, such as Illawarra News and No Fibs, have a commitment to the craft including to the Journalists' Code of Ethics
Citizen journalism can be both a personal investment and a professional commitment to issues which mainstream media are overlooking. While citizen journalism can, and perhaps should be a voice of outrage about injustice, without substance and quality that outrage will be shallow and ineffectual. Substance and quality require research, analysis and writing skills to establish the credibility of arguments and trust from readers and listeners.
While most citizen journalism is web based, such as No Fibs or Illawarra News, the Shoalhaven hosts The New Bush Telegraph, which aims to print four editions per year – and will soon enter the digital age!
Community radio, such as Triple U 104.5 FM, and Bay and Basin FM 92.7 also provides opportunities.
So, the way ahead?

John Hanscombe noted that Rob Carr's suggestion of establishing a citizen journalism unit within mainstream media outlets was beyond the resources of a regional newspaper, such as the South Coast Register, but would need to be adopted by the papers owner, Fairfax Media. The recently announced changes to Fairfax's south coast operations do not include this, so it's reasonable to assume this approach won't be trialled anytime soon.
Looking at citizen journalism from a broad perspective, and in particular advocating for a diversity of voices, one writer has advocated a citizen journalism industry body as a means of ensuring standards are met. Interesting points to be found here.
On questions of support for citizen journalism and quality or limitations of it, ABC South East SA reported in May 2014 on a community news Facebook page in Mount Gambier. The page had over 8,000 followers, while the local newspaper had 4,500 followers on its page and the ABC had just over 2,000. Interesting comments on the risks and limitations of this type of reporting here.
From my point of view, citizen journalism has much to offer – to the broader society and to citizen journalists themselves. "Participation in public life is a fundamentally good thing" was the opening to this article and that drives much of what I do.
No Fibs have reported on the emergence of one of their contributors from citizen interested in her local community to citizen journalist at No Fibs, and later as community correspondent for local ABC radio. That report is here.
Slow but steady growth will be sustainable and allow for learning and development, minimising the risk of major error which has the potential to undermine the cause of citizen journalism.
In closing, I believe training and support is needed to foster and encourage responsible citizen journalism and therein lies the challenge. Illawarra News is aware of this and is giving the matter consideration. Watch the space and if you are interested in becoming a citizen journalist, let it be known.
And finally, thanks to Tim Dennis who took and posted photos of the forum.
---
---