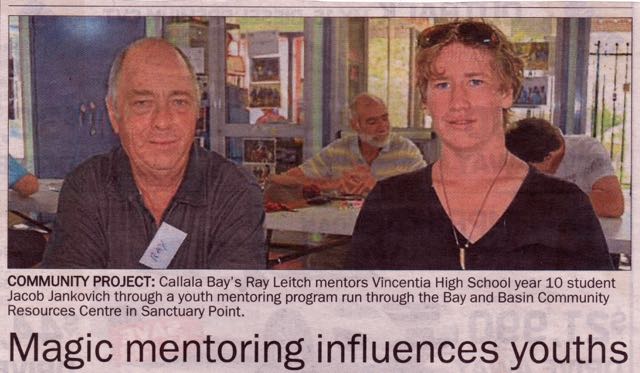 ---
Back in March I posted about a local youth mentoring project that I was following. The project is now past the half way mark and I have recently written about it – sort of a progress report. The South Coast Register published the story on May 13, as "Magic mentoring influences youths".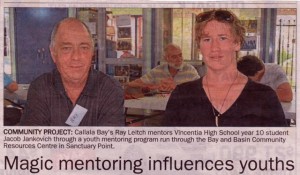 I'm planning a more detailed review of the project on its completion, but the story to date is below.
IT TAKES A VILLAGE
Jacob Jankovich is a magician. Cards, ropes and rubber bands are his specialty. While Jacob has only been developing his skills for a few months he hopes he may be able to make a career out of it. He knows this won't be easy, but the Vincentia High School year 10 student wants to give it a go.
Ray Leitch is a retired train driver from Callala Bay. Ray's a volunteer presenter on Bay and Basin 92.7FM Community Radio, where twice a week he plays his favourite music. Earlier this year Ray was invited to take part in a youth mentoring program at the Bay and Basin Community Resource Centre in Sanctuary Point.
Jennie Toms, who devised and is delivering the program, has a variation on the African proverb "it takes a village to raise a child." This is an underlying belief that young people need eight significant adult influences from birth to age 24. Not every young person gets that. "There's often problems when a child has few adult influences and some of those influences may be negative, she says, "or when the greatest outcome of the relationship is validation of the adult." Jennie is a psychologist and life coach with a passion for horses, and working with young people. The Sanctuary Point program came about after Jennie met BBCR's Gemma Hart at a families and communities conference last year. They got talking.
Youth mentoring can focus on areas such as social and emotional wellbeing, youth justice and crime prevention, or education and employment. The Sanctuary Point program is different, focusing on individual talent and leadership development.
Meeting 10 times between February and June the program helps youth and adult mentors to negotiate ground rules for working together, identify realistic goals and achievable steps to reach that goal. The program aims to cover all aspects of life: spiritual, physical, intellectual, relational and emotional.
Apart from a train driver the adult mentors include artists, retired teachers and students. Some are long-term residents, others new to the area. All want to give something and as part of their training they identify what they want to get out of the program. "Helping young people make better decisions" is a common goal. "Feeling more at ease interacting with young people" is another.
Jacob and Ray are just one of eight teams in the mentoring program, all working on different goals. It's about the half-way mark and Jacob says he's developing more confidence and it's helping his attention span. His skills were on display at the recent Youth Week Showcase Market at the Nowra Arts Centre. Ray initially found the structure and the detail in the program surprising. "There's a lot more to it, a lot of conceptual stuff but it's getting easier, clearer," he said. He was initially expecting more control but sees the logic in helping youth work it out themselves, with guidance from mentors.
The program is funded by the NSW Office of Communities. It finishes with a showcase event at Bay and Basin Community Resources on 16th June, when the youth present their projects.
---
---